Lakeland Model 420
Large Capacity Portable Tube Bender
BENEFITS:

• Can bend virtually all common sizes.

• Provides mechanical advantage to easily bend heaviest tubing and up to Schedule 40 I.P.S. pipe.

Light Weight and Versatile

• Can be vice or bench mounted.
• Easily portable.
• Use in shop or take to job site

• Makes all operators expert tube benders.
• Compound bends easily accomplished.

• Multiple O.D. sizes machined into a single block.
• Reduces tooling costs.

• Meet virtually any bend radius specification.
• Optional "Flare-End" block allows bend adjacent to flare.
• Custom tooling available for metric tubing, rigid conduit and I.P.S. pipe.

• Radius block clamp pivots to quickly grip or releasetubing for higher production. • Reduces tooling costs.

• Enables quick return to starting position without engaging gear drive.

• Easily converted to bend thin wall tube with use of optional mandrels.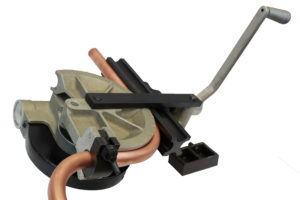 P/N 1-762-100 (Shown with Available Tooling)

•1/4″ – 1-1/4″ O.D. Tube
•6 mm – 32 mm O.D. Metric Tube
•1/8″ – 3/4″ Iron Pipe (I.P.S.)
•Weight: 40 Ibs.