Lakeland Model 624
Heavy Duty Manual Tube Bender
BENEFITS:

3/8 "- 1-1/2 " Capability

• Can bend virtually all common sizes.

Bi-Directional Bending

• Fast and simple changeover of clamp arm allows up to Schedule 40 right or left-hand bends.
• Can make opposite direction or "s" type bends.


4: 1 Gear Drive

• Bends larger material without operator fatigue.
• High speed mechanical advantage to easily bend heaviest tubing and up to Schedule 40 I.P.S. pipe.

Quick Clamp Engagement

• Standard clamp and slide block arms use speed screw and half-nut to quickly engage and disengage tooling.

Bench Mounting

• Can be bench or table mounted.
• No need for special cabinet or stand.
• No additional floor space requirements

• Meet virtually any bend radius specification.
• Optional "Flare-End" block allows bend adjacent to flare.
• Custom tooling available for metric tubing, rigid conduit and I.P.S. pipe.

Combination Slide & Clamp Blocks

• Only three blocks cover entire standard size range. production.
• Reduces tooling costs.

Mandrel Capability

• Easily converted to bend thin-wall tube with use of optional mandrels.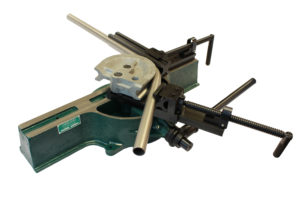 P/N 2-490-1 (Shown with Available Tooling)
• 3/8 " – 1-1/2 " O.D. Tube
• 6 mm – 32 mm O.D. Metric Tube
• 1/8″ – 3/4″ Iron Pipe (I.P.S.)
• Weight: 119Ibs.