Lakeland Model 632
Heavy Duty Hydraulic Tube Bending
BENEFITS:

• Can bend virtually all common sizes.

Indexable Bend Angle Stop

• Dial-in degree of bend required and bender will automatically stop when bend is complete.
• Has additional dial scale to monitor bend progress.


Rugged Heavy Duty Design

• Proven, long-life design utilizes 10,000 PSI hydraulic cylinder to operate bendarm.
• Easily portable.
• Spring on cylinder automatically returns bend arm to start position after bend is complete.

Quick Clamp Engagement

• Standard clamp and slide block arms use half-turn nut to quickly engage and disengage tooling.

Hydraulic Power Unit

• 10,000 PSI hydraulic power-pack unit allows simple operation with on-off jog switch.
• 1/2 HP, 115V operation.
• MUST BE ORDERED SEPARATELY

• Meet virtually any bend radius specification.
• Optional "Flare-End" block allows bend adjacent to flare.
• Custom tooling available for metric tubing, rigid conduit and I.P.S. pipe.

Combination Slide & Clamp Blocks

• Only five blocks cover entire standard size range.
• Reduces tooling costs.

Mandrel Capability

• Easily converted to bend thin-wall tube with use of optional mandrels.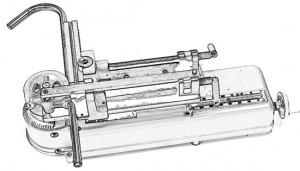 P/N 2-1190-1 (Shown with Available Tooling)
• 3/8 " – 2″ O.D. Tube
• 6 mm – 52 mm O.D. Metric Tube
• 1/8″ – 1-1/2 " Iron Pipe (I.P.S.)
• Weight: 150 Ibs.